Amex Championship Next Week!!
I don't know about you, but i'm getting pretty excited about the
PGA Tour's American Express Championship
coming here next week! Its going to be at my very own
Harding Park Golf Course
in San Francisco.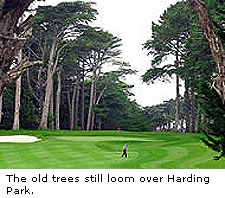 Myself and some friends got tickets for all week. The cool thing is i can catch the N Line right at my house, and then hop on a free shuttle right to the event. seasy! (so easy). I think we're going to try and get there early on Tuesday morning to catch Tiger Woods practice... maybe give him some encouragement, tips, etc.
Harding Park is a short course, but pretty hard nonetheless.. rumor is they'll make it a par 70 for the pro's, instead of the usual 72, which makes sense. Some holes will definitely give some drama.. like hole 18: which tree will Daly take it over? or hole 16: will someone go for the green on this driveable par 4?... how deep is the rough going to be? where will
Elin
be?
many questions.. can't wait.